A powerful kind of synergy develops when students take leadership roles in the classroom.
They're learning to teach, but also teaching to learn.
Ask employers to describe their dream worker, and you'll hear a common refrain. No matter their field, bosses need employees who can communicate clearly. The ability to speak and write with precision is no less important for a budding engineer or scientist than it is for a lawyer or teacher. In today's world, these skills know no disciplinary boundaries.
Based on the higher salaries they earn by earning a college degree, UW–Madison
graduates pay off their investment in higher education in an average of less than three years.
Source: "The New Economy and the
University of Wisconsin–Madison,"
NorthStar Economics, Inc., April 2003
Similarly, UW–Madison's approach to teaching effective communication transcends any one department. Through efforts such as the College of Letters and Science's Writing Across the Curriculum program, instructors from a range of disciplines have integrated exercises to improve students' writing into their courses. During most semesters, the university offers more than 100 courses that are considered writing-intensive, including dozens in the physical and biological sciences.
In 1997, the university added a new element to its writing instruction force: students. The idea was to assign a select group of undergraduate students to work with writing-intensive classes, where they would give one-on-one feedback to their peers and help them refine their writing assignments. Known as the Writing Fellows program, the innovation proved hugely successful for everyone involved.
Today more than 50 active writing fellows assist faculty in more than 20 courses — including offerings such as Stellar Astrophysics, Health Policy and Politics, and Humid Tropics: Ecology, Conservation and Development. And those who have worked with fellows are unanimous about their positive influence. Because all fellows take a semester-long course to hone their critical skills, they can offer practical hints and lessons that go beyond what the professors can suggest. But the real edge is the enthusiasm and attention fellows provide. Their detailed, individual critiques can make all the difference for students learning how to refine their writing.
And that cuts both ways. When fellows tutor their peers, they become active participants in the educational process. By thinking hard about how to help their peers, they're invariably refining their own communication skills, as well.
"It's important for the students to teach themselves and take responsibility for their education," says Emily Hall, associate director of the Writing Fellows program. "They have a lot to learn from one another."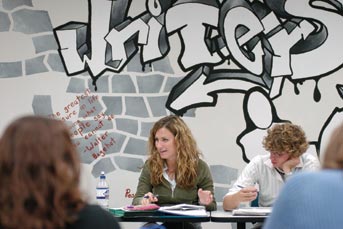 In a new initiative designed to enhance the education of medical students, the UW Medical School issued handheld personal digital assistants (PDAs) to many of its clinical students, allowing them to track their patient encounters and access medical resources.
UW–Madison awarded ten students with a master's degree in biotechnology, the first class to graduate from the new program, which was created to meet the growing demand among students and employers for expertise in the fast-developing biotechnology industry.
More than 150 Wisconsin high school students took advanced placement courses offered remotely by the Wisconsin Advanced Placement Distance Learning Consortium, which was created to extend the advantages of early college credit to all high school students.
For the third year in a row, student engineers took home first prize in the FutureTruck Competition, a national contest that challenges university teams to design and build vehicles that improve the energy efficiency of current models.
UW faculty and students joined with K–12 teachers and students from around the state to collaborate on Wisconsin Weather Stories, a project designed to make connections between weather folklore and sayings and scientific explanations of weather phenomena.
Experts at the School of Education launched the Education Arcade, a new project that helps teachers at all levels take advantage of the appeal of video games by including game-playing elements in their curricula.