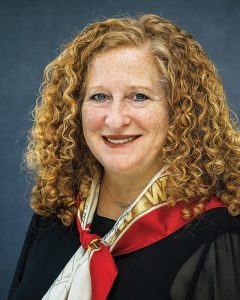 Jennifer L. Mnookin is the 30th leader of the University of Wisconsin–Madison.
Prior to joining UW–Madison as chancellor, Mnookin served for seven years as dean of the UCLA School of Law and as Ralph and Shirley Shapiro Professor of Law. As dean, she broke fundraising records, built the first new degree program in a generation, and created new institutes in areas ranging from immigration law to technology, law, and policy. She also helped to enhance the school's overall ranking and both the academic quality and the diversity of the student body, and for five years chaired UCLA's Council of Professional School Deans.
Mnookin is one of the most cited scholars in the nation in the area of evidence law. She has written on topics ranging from photographic and filmic evidence, to forensic pattern evidence (e.g., fingerprint identification, document examination, DNA evidence), to more theoretical work on how we use scientific information within the legal system.
In 2020, Mnookin was elected to the American Academy of Arts and Sciences. She previously served on the National Academy of Sciences, Engineering & Medicine (NASEM) Committee on Science, Technology and Law, and currently co-chairs a NASEM committee examining Facial Recognition Technology. She has worked on several national reports on forensic science, including co-chairing a group of senior advisors to the President's Council of Advisors on Science and Technology report on the use of forensic science in criminal courts.
Prior to joining UCLA Law in 2005, Chancellor Mnookin was a professor at the University of Virginia School of Law and visiting professor of law at Harvard Law School.
She received her A.B. from Harvard University, her J.D. from Yale Law School, and a Ph.D. in History and Social Study of Science and Technology from M.I.T. Mnookin and her husband, political scientist Joshua Foa Dienstag, have two children, 20 and 23. In December 2020, Mnookin donated her kidney to her father and is a strong proponent of living kidney donation.
Contact
Office of the Chancellor
163 Bascom Hall
500 Lincoln Drive
Madison, WI 53706
Email: chancellor@wisc.edu
Phone: 608-262-9946