WELCOME!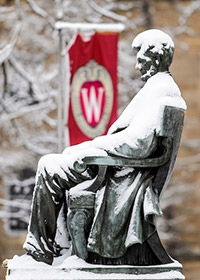 On behalf of the entire University of Wisconsin–Madison campus, I am delighted to welcome you all to Madison on February 6-7, 2020 for the February meeting of the Board of Regents. I look forward to hosting you on campus and the opportunity to discuss our goals for the year ahead, as well as highlight some of the people and programs that make the University of Wisconsin–Madison so special.
As in years past, the meeting will be held in Union South, right in the heart of campus. A detailed agenda and committee meeting information is now available on the Board of Regents website. You can view a livestream of the public meeting at: http://www.wisconsin.edu/regents/board-of-regents-video-streaming/
We will continue to post updated information at this site as it becomes available.
I look forward to seeing you.
Thank you!
Rebecca M. Blank
Chancellor, UW–Madison