Committed readers of this blog will recall that last Memorial Day weekend my husband and I spent a day driving from La Crosse to Prairie du Chien along the Mississippi River. That was such a fun drive, we decided to do the rest of the Great River Road in Wisconsin this Memorial Day.
We set off on Friday afternoon in an amazing amount of traffic on I-90/I-94 and drove to River Falls for the evening, a small city home to UW-River Falls. A good pizza parlor and a nearby Dairy Queen provided dinner.
The next morning we drove to Prescott, where the St. Croix River (the Wisconsin/Minnesota boundary to the north) merges into the Mississippi as it flows out of Minnesota. From Prescott south, the Mississippi is the Wisconsin boundary. It's the beginning of the Great River Road (see the selfie Hanns and I took to prove this fact.) By the way, Prescott is named for its founder, Philander Prescott — a great first name and one that has sadly diminished in use in our modern society.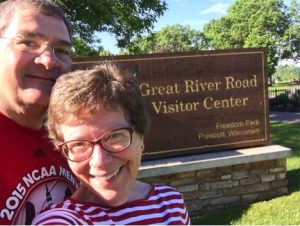 It was a beautiful morning and we rolled alongside the Mississippi, which becomes wider and less channelized as it flows south. The river was full and even spilling over in places. At Hager City we crossed the bridge to Red Wing, Minnesota, just so we could stop in the Red Wing Shoe store. The very dusty and industrial store that I remember from my last visit to Red Wing, probably almost 50 years ago while on a trip from the Twin Cities with my parents, has been replaced by a large new building with its own Shoe Museum, worth a visit.
Back on the Wisconsin side, we next stopped at Stockholm, a small village with a number of lovely galleries. It's also home to a pie shop that was definitely worth the stop. As my husband said, "Let's just eat dessert first, and have lunch later."
Fortified, we next headed inland about seven miles to visit the wayside park located on the land owned by Laura Ingalls Wilder's family. She wrote about their life in a log cabin there in "Little House in the Big Woods." A replica cabin is part of the park. Despite a complete lack of any signs to point you there, this is was one of the busiest places we visited all day. I insisted on this stop, as a loyal and long-time Laura Ingalls Wilder fan. It's hard to look around the open fields and farmland and imagine a deep woods, with bears and panthers, only 150 years ago.
Lunch was in Pepin, sitting at a restaurant where we could watch the Mississippi. Then on southward again.   We crossed several very extensive marshy areas, all named "sloughs" (as in Buffalo Slough and Beef Slough). Hanns and I are still debating the appropriate pronunciation of that word — if you have a definitive answer, let me know.
Next stop was just outside Trempealeau at Perrot State Park, where we climbed Brady's Bluff, which gave us a vast panorama both up and down the Mississippi. We watched the hawks circle, watched the water flow, and watched the trains go up and down either side of the river.
Sadly, at that point we were near La Crosse, our end point, and the sunny day had turned into rain. So we headed back home on I-90 as the sun set. It was another lovely trip through some of Wisconsin's most scenic areas.