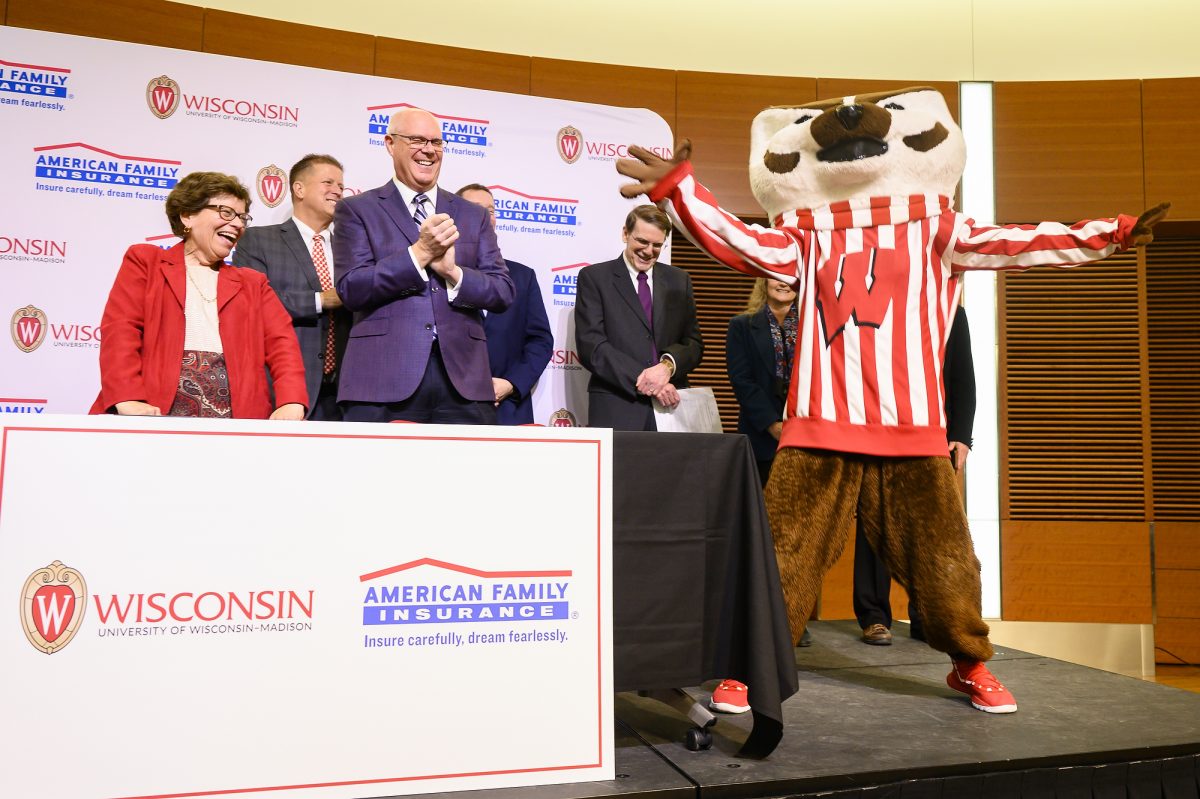 As you may know, last year I appointed a working group made up of campus and industry leaders and alumni with deep technology industry experience and asked them to make recommendations on how our campus should move forward to retain our leadership in computer and data sciences.
Last week we made two big announcements that will help implement their recommendations.
First, we are creating a new data science institute that will pull together faculty from across campus to collaborate on cutting-edge research, spark new opportunities for our students, and give us new ways to work with industry partners. This institute will be one of the interdisciplinary cross-campus research centers that reports directly to the Vice Chancellor for Research and Graduate Education.
Second, a generous gift from American Family Insurance will ensure that our new institute gets off to a strong start. They are expanding their partnership with UW-Madison by making a $20 million investment in data science research at our university. As a result, we will name this institute the American Family Insurance Data Science Institute.
American Family will make a $10 million gift to endow the American Family Insurance Data Science Institute. The 4.5 percent annual return on this endowment can be used to seed new research, support graduate students or postdocs, or help support for events. In addition, we will enter into a Master Research Agreement, providing for $10 million in research funding over ten years to directly support data science research.
Disciplines across campus are becoming more data-driven and this new institute can help facilitate shared research and expertise across campus. This work will pull in students and drive research in everything from climate change modeling to evaluating alternative cancer treatments to exploring voting patterns. Increasing numbers of businesses want to hire students with data science skills and partner with our researchers, driving economic growth in our state and reinforcing UW's reputation as a leader in this important area.
In addition to the creation of the new American Family Data Science Institute, we will also be funding a cluster hire in the data science area, with three new faculty hired in different fields across the university.
The report from our working group stressed how critical it is that we act now if we want to maintain UW-Madison's top reputation because our peers are investing and demand for our talented graduates is rising. In fact, computer science is now the number one undergraduate major on campus. Just five years ago 300 students majored in computer science. Today, it's nearly 1,700 and growing.
In the coming year, faculty from several departments are collaborating to introduce a new major in data science which should will become available in the near future. This will help serve the growing number of students who want to prepare to work in this field.
The American Family Data Science Institute will build on some our other efforts in this area including the Data Science Hub at the WI Institutes for Discovery and the data science initiative – which provided seed money for data science projects across campus. These projects supported 32 faculty and staff from six different schools and colleges on topics that range from identifying risk factors for Alzheimer's Disease to transforming global supply chains to help address climate change.
American Family has been a long-time partner with UW-Madison and has supported research in areas such as artificial intelligence and autonomous vehicles. They have supported student scholarships and funded a faculty chair. And they've been big supporters of Badger athletics. I'm delighted they want to extend this partnership to include this new institute. It will help us launch the institute more successfully and at a larger scale.
Data science is an area that is flourishing, with applications covering the humanities to engineering. The research conducted through the American Family Insurance Data Science Institute will help propel this field forward. I can't wait to see the ideas and innovations that we generate at UW in the years ahead.