I confess: I love Bucky Badger. Not only is he a great mascot who cheers our teams on the field, he also shows up for student award ceremonies, he is here to welcome new students to campus, and to help make important public service announcements.
One of my favorite evenings is Halloween, when Bucky comes to my house and passes out candy to all the trick-or-treaters. The way children respond to Bucky is wonderful to watch.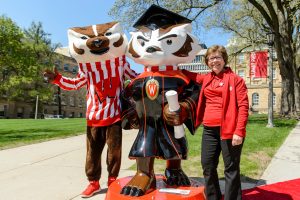 In short, Bucky Badger is much more than a mascot to us; he's a symbol of one of the greatest universities in the world. Sometimes you see the competitive Bucky, sometimes the serious Bucky, and sometimes the goofy Bucky. But in any season, and in any form, Bucky Badger is Wisconsin through and through.
So it is fitting that this summer Madison was overrun with Buckys – 85 of them to be exact – each decorated with a different theme. Bucky Badger is immediately recognizable by everyone—whether they attended UW–Madison or not.
The wonderful thing about public art is that it's out there for the entire community to enjoy. That's why the Bucky on Parade art project was so successful. I've loved watching people of all ages inspect the design on a Bucky statue and then snap a picture with him.
A special thank-you to all of the artists who put their unique stamp on our beloved mascot, and to the Fast Corporation of Sparta, which created all of the Bucky statues. I also want to say a big thank you to our partners on this project, the Madison Area Sports Commission, The Wisconsin Foundation & Alumni Association, UW Athletics and Garding Against Cancer, and all of the local businesses and organizations that sponsored the statues.
Some of the statues will be claimed by the company that sponsored them. The other statues will be auctioned to raise funds for cancer research, treatment, and awareness.
I'm delighted to have UW-Madison represented in 85 different ways around town. I hope you've enjoyed the exhibit as much as I have.