The ongoing debate about the proposed UW System budget has attracted national attention, perhaps not surprisingly, as it has gotten caught in the swirl of media and presidential politics.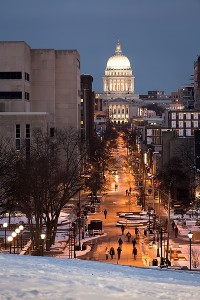 I have been dismayed to see my statements advocating for a strong budget for UW-Madison presented as attacks on Governor Walker.
I want to be clear: I've enjoyed the opportunity to become acquainted with Governor Walker over the past two years and appreciate his interest in higher education. I've had many conversations about the budget over the past month with many people, including students, faculty, staff, legislators, alumni and business leaders. In all of them, public and private, I have focused on the proposal and what it means for the university, our students and the state of Wisconsin.
As I've said, we recognize the deep financial challenge facing him and state legislators and we are committed to the UW doing its part to help. We also support the tools provided by a public authority model because it would allow UW-Madison to run more efficiently and effectively.
We have been in contact with key legislators and the governor's staff and I am grateful that our concerns have been heard. We are glad that there is interest on all sides in reducing the size of the proposed cut.
I have led a series of conversations with staff, faculty and students on these cuts, and some have misunderstood the purpose of those forums. In the midst of enormous public discussion and interest about the budget, I had a responsibility to be as transparent as possible with members of our community about what was proposed, how we were responding, and what I felt some of the impacts of this budget would be. We are going to initiate cross-campus budget cuts, and I felt that it was important that I talked face-to-face with our community to explain this. Most of the time at each of these forums was spent taking comments and questions from those in attendance.
I hope that we in Wisconsin can engage in a civil public conversation about the role of UW in the state and a level of state support that is equitable and doesn't weaken the university's economic and educational impact.
People are passionate about these issues, but disagreement on substantive issues such as budget proposals – however deeply felt – should never be an excuse for personal attacks on those with different opinions. That just makes others less willing to engage in a common conversation, which can quickly harm public debate and democratic decision-making.
We recognize that people continue to have questions about the budget and public authority's impact on UW-Madison. As I have over the past several months, I will continue to share information in this forum and at budget.wisc.edu.
I appreciate the interest shown by Governor Walker and legislators in keeping the UW strong and in working collaboratively to ease the budget's impact. Together I'm confident we can find solutions that keep the best interests of our state and students at heart.