I traveled to Green Bay Monday to visit American Foods Group (AFG) with a group of state legislators. It was a great opportunity to see how the work we're doing at UW-Madison impacts Wisconsin companies.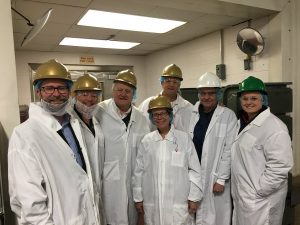 AFG owns a number of meat processing facilities around the United States and exports its products to more than 40 countries. It's headquartered in Green Bay and has a ground beef processing facility there that we toured. They ship about 1.6 million pounds of ground beef each day from this plant, and more than 5 million pounds company-wide. It was fascinating to see the production process and to learn more about their business.
AFG recruits talent from UW-Madison and the company makes extensive use of the Meat Science Lab in the College of Agricultural and Life Sciences (CALS). President and COO Steve Van Lannen explained to the legislators the importance of having the new Meat Science Building on campus, such as the research in food safety that the new BSL-2 lab will provide or research that explores new commercial uses of by-products.
Steve has been instrumental in working with CALS and other industry partners to make the new Meat Science facility a reality. This is the building currently under construction across the street from the Nat and just in front of the Veterinary Medicine School. The old facility, originally constructed in the 1930s, was ancient and out of date. This new building would not have been possible without a strong public-private partnership.
When completed, the Meat Science building will not only be a state of the art research facility, but it will also be a full-service, federally inspected meat processing plant. It will have modern classrooms for learning meat processing with high food safety standards and practices, and specialized laboratory facilities where researchers will discover new medicines and other products derived from animals. We expect this building to be completed by the end of this year with classes starting in the facility in the spring semester of 2019.
Thanks to Steve and all at AFG for hosting us.