The post below is co-written with Vice Chancellor for Student Affairs Lori Reesor.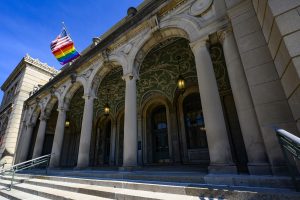 Fifty years ago, on June 28, a protest that began outside a bar in New York City helped spark a movement that has profoundly shaped our world.
As our nation marks the 50th anniversary of the Stonewall uprising, we want to recognize the LGBTQ+ students, faculty, staff and alumni who contribute so much to our community each day through teaching, research, and service.
UW-Madison supports you and we are committed to making our campus a place you feel valued and safe.
Equality and inclusion are cornerstones of our core values at UW, and we recognize there is still much work to be done. On campus, that means making this a place where our LGBTQ+ community feels fully included and at home. Off campus, that means sending our alumni out into the world to advocate for the full human and political rights of all people.
Tomorrow, June 27, and through the weekend, the university will raise the Pride Flag outside of Memorial Union and Union South in recognition of the social changes that have followed Stonewall.
We also invite you to Union South's Marquee Theater on 2 p.m. Friday for a showing of "After Stonewall," chronicling the history of the LGBTQ+ rights movement from Stonewall to the end of the century.
We are proud to honor the Stonewall activists and the many other members of our community, past and present, who have spoken up and sacrificed to make the world a better and more inclusive place.