By now, you've read all of the basketball stories about the Badgers—their perseverance in the face of adversity, Coach Ryan's first Final Four, and even the burgeoning broadcasting career of Nigel Hayes.
You also know all about Saturday night's heartbreaking loss. We are incredibly proud of this team, Coach Ryan, and of all of our student-athletes.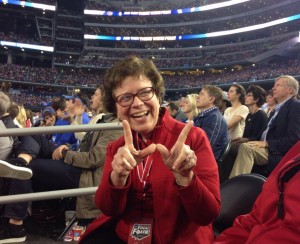 And they truly are students as well as athletes.  If you didn't see this New York Times article, you'll want to read it.  
What might be hidden behind the scenes is how UW's competitive success at this very high level benefits our entire institution.
For starters, we've had a chance to showcase not only our basketball program but also our institution to the entire country and world.
Our already powerful brand has received tens of millions of impressions in the media, online in social media, and through our institutional commercial, played at halftime on national TV.
People who may not have heard much about Wisconsin as a place to study or work might now have us on their list of top institutions.
One of my goals as chancellor is to do a better job of telling our story in Wisconsin and across the country. People who already live and work in Madison know what a great place UW is, but we need to reach out far beyond our area. And we have a very compelling story to tell.
In addition to success in athletics, we offer prospective students, faculty and staff a complete package of excellence in research and academics. The student experience is second to none. And Madison, surrounded by the arts and outdoors, is one of the best settings in higher education.  And all of this with tuition that is at the mid-point of the Big Ten.
After several of our past Rose Bowl trips, inquiries to admissions, campus tours, and applications all increased, helping us to continue to attract the best in-state and out-of-state students. I expect a very similar effect to take place after March madness is over.
Final Four merchandise sales also help boost scholarship assistance as royalty proceeds are evenly split between the Office of Student Financial Aid and the Athletic Department.   Wisconsin's tremendous school spirit and demand for licensed product sales generated $3.3 million in royalties in 2013, which puts UW among the nation's top 20 colleges and universities.
As you know, the university also depends on private support from its very generous base of alumni and friends.  Research suggests that donor dollars go up after a major athletic success (not long-term and not by huge amounts, but they do go up.)  I'm hopeful this success and the recognition the university receives this weekend give people one more reason to continue to support UW.
In the end, I am proud whenever our institution demonstrates excellence, whether in athletics, in education, in research and innovation, or in the successful lives of our alumni. Only a handful of universities can claim similar success across the board.
It was a very difficult loss. But for all of these reasons, Wisconsin was a winner at the Final Four.