Welcome to a new academic year at the University of Wisconsin-Madison. As we embark on the fall semester, I want to recap some highlights from the summer, and look ahead to some priorities in 2017-18.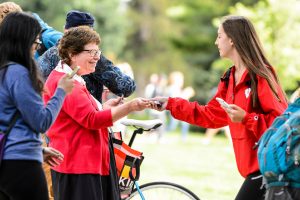 The state Legislature is wrapping up its budget deliberations, and we are thankful that the budget includes a funding increase for the UW System after several years of cuts. We are also grateful that the Joint Finance Committee last week passed a motion to include funding for a new parking structure on the west side of campus and utilities and infrastructure repair in the central campus area. We will continue to work with the governor and legislators to increase investment in higher education in Wisconsin.
A key part of our mission, and a top priority for me, is to expand access to Wisconsin students. This fall we are launching a new program called Badger Promise to create a pathway to a UW-Madison degree for some of Wisconsin's neediest students.
Badger Promise offers one year of free tuition to first-generation, Wisconsin-resident students who meet our admission requirements and transfer with at least 54 college credits from a two-year UW System campus or technical college partner. Pell Grant-eligible Badger Promise students can receive two years of free tuition. (And by the way, virtually every one of our first-generation transfer students is eligible for financial aid, so this is a good way to target our resources effectively.)
We enter this semester with what will be the largest freshman class in UW-Madison history. Final numbers won't be available until the second week of classes is complete, but we estimate 6,600 freshmen will be at UW-Madison (out of 35,614 applicants, also a record.)
Another top priority is to help grow revenue sources that allow us to invest in this university. That means funding to hire new faculty in key areas, increase our support for research, expand access to lower-income students, address compensation issues among faculty and staff, and improve both the classroom and out-of-classroom experiences that we offer our students.
Among the things we are doing to create new investment funding: the expanded and revised summer term (I'll have more to say about that in a blog post next week), expanded professional master's programs, our All Ways Forward fundraising campaign, efforts to set professional school and out-of-state tuition levels at market rates, some expansion in the number of students, and increases in research dollars.
These efforts are already showing results. The Badger Promise program is possible because of a positive state budget and this new revenue. But other good initiatives are also underway. We are in a very competitive market for faculty and staff, and to retain the best we have to offer compensation on par with our peers. This fall, we will again offer a critical compensation fund to provide salary increases to faculty and staff whose salary has fallen particularly far behind, based on performance, equity and market factors. As we did last year, we will also provide funds for one-time bonuses to exceptional performers.
We are also, after a 15-year hiatus, creating a new cluster hire program. This is designed to recruit groups of faculty from different disciplinary areas but whose work intersects on a key area of research interest. We'll provide substantial central support for salaries for these individuals, hoping to deepen our research strength on critical topics. We will hire three to five clusters per year for the next five years. We'll begin receiving calls for proposals from faculty, research centers, or departments this fall, with the goal of hiring the first clusters this spring.
Another important priority is to ensure that our campus is inclusive and welcoming to all of our students, staff and faculty. We continue to work on a variety of projects designed to expand our campus's ability to live up to these ideas. To learn more about what we've done over the past semester and the summer, see our Fall 2017 Campus Climate Report.
For many of us, the scenes from Charlottesville last month are still very vivid. The racism, hatred and violence, along with the images of the KKK and Nazi flags, were deeply disturbing and antithetical to the values this campus represents.
Our campus community cares deeply about the things that affect people's lives, and we are not afraid of robust debate that allows for many points of view — even those contrary to our values. That's what free expression is all about, and it's important that we are and remain a place where a wide variety of opinions can be expressed.
But we will not tolerate threats or violence. So I want to end by reaffirming this campus's commitment to providing an environment that is safe for the teaching, learning, research and public service that is central to who we are as a university. We value diversity and welcome everyone who wants to learn, to work hard, and to be part of this wonderful community.
Best wishes for the fall semester here in Madison!