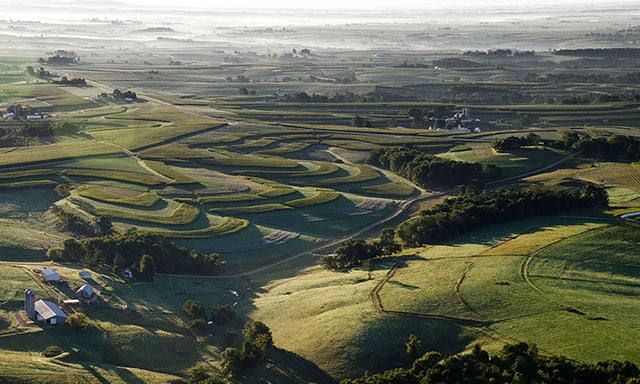 As in previous summers, I want to tell you about a recent trip my husband Hanns and I took in Wisconsin. It was a short trip…we left Friday afternoon and were home by Saturday night. But we saw a lovely slice of Wisconsin.
Actually, we started in Illinois, driving to Galena late Friday afternoon. As many of you know, Galena is due west of Chicago almost to the Mississippi. It was a bustling lead-mining town – bigger than Chicago in the early 1800s – but slowly died as the lead played out and Mississippi river traffic became less important. Remaining is a beautiful 19th century town built on the bluffs of the Galena River.
We got up early on Saturday morning and toured the home of Ulysses S. Grant, Galena's most famous past resident. We also toured the house of Elihu Washburne. American history buffs will know he was head of the powerful Committee on Appropriations in the U.S. Congress. President Grant appointed him Minister to France. Upon returning home from Paris, Galena seemed a bit smaller than before and he settled in Chicago for the remainder of his life.
After that we headed north back into Wisconsin's Grant County, in the southwest corner of the state.  Here are all the things we did in Grant County:
Visited the Sinsinawa Mound and the mother house for the Sinsinawa Dominican Sisters, a teaching order (which oversees Edgewood College among other schools.) They have a beautiful church where we spent a few minutes of quiet. For the more commercially minded, they also have a lovely gift shop that includes sales of their famous home-made cinnamon rolls.
Stopped at the Dickeyville Grotto next to the Catholic Church. (We've seen this advertised while driving by on 151 and always wanted to stop.) This is a series of structures made 70-80 years ago, composed of shells, tiles, rocks, etc. It's hard to describe without seeing it in person. It's definitely a labor of love.
Had lunch in Potosi at the Potosi Brewing Company, established a century ago. Don't miss a tour of the brewing museum.
Drove up the Mississippi to Cassville, a small town on the Mississippi. But in the 1840s, Cassville aspired to be the new capitol of Wisconsin. It lost out to the upstart community of Madison. But Wisconsin's first governor, Nelson Dewey, was from Cassville and never quite let go of the dream that Cassville was going to be one of the star towns in Wisconsin. In Cassville is the state historical site of Stonefield, Governor Dewey's home. Part of it has been turned into a small historical village, including an antique farm equipment display. We toured Governor Dewey's home, which was built with views across the Mississippi.
Stopped at the Lancaster Agricultural Research Station, operated by CALS. It was late Saturday afternoon with nobody around, but we mainly stopped for the view. The photo that accompanies this blog is often on the front of the UW website…It's taken at this location.
Visited Lancaster, the county seat of Grant County, which has a gorgeous courthouse.
All of this in one day, and we didn't even leave the county! I might note that we didn't stop in the biggest city in Grant County, namely Platteville and the UW-Platteville campus. But we'd been there before.
The best part of the day was just driving through the countryside. While I know that some agricultural sectors of this state are struggling, the crops in Grant County are thriving. We saw beautiful rolling plains of contoured corn and soybean fields that stretched as far as you could see. It was a green and promising sight. And a wonderful way to spend a mini-vacation in Wisconsin.