Since arriving at UW-Madison, I have looked at statewide outreach as an essential part of my job and our institutional mission. Over this past year, I've had the pleasure of visiting a number of communities, including Beloit, Eau Claire, Green Bay, Waukesha and Milwaukee.
In early December, I traveled to La Crosse for a meeting of the UW System Board of Regents. While in the area, I took the opportunity to visit some of our community partners, and government and business leaders in the region.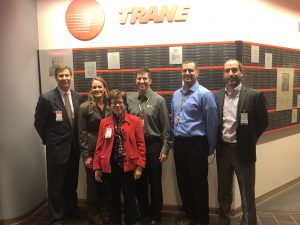 As I travel, I have had a number of people remark that they haven't had a chancellor from the state's flagship university visit before. To me, one of the most important things we must do as a public flagship is build relationships and identify ways we can bring the university's resources to bear to address challenges and build opportunities across the state.  When people understand how UW-Madison interacts with their community, they also realize why it is imperative for Wisconsin to continue investing in the university. Meeting and speaking to people face-to-face allows me and others to promote what we do and to correct misperceptions about UW-Madison.
My first stop on the La Crosse trip was a visit to Gundersen Lutheran with School of Medicine and Public Health (SMPH) Dean Bob Golden to celebrate our partnership on the WARM program. The program recruits medical students who are interested in practicing rural medicine, and then trains them with the help of three partner programs in Wisconsin, including Gundersen, as well as programs in Marshfield and Green Bay. We currently have 22 medical students in La Crosse, and another 10 will be added next month.
I spoke at a luncheon hosted by UW-La Crosse Chancellor Joe Gow for area community leaders, many of whom were either alumni of UW-Madison or UW-L. We talked about UW-Madison's presence in La Crosse and western Wisconsin, and what is at stake for both UW-Madison and UW-La Crosse in the upcoming state budget.
I also had an excellent visit with County Administrator Steve O'Malley and members of the La Crosse County Board that serve on the committee that oversees cooperative extension activities. Karl Green, a community natural resource and economic development agent with UW-Extension in La Crosse, was also there. I updated them on our continuing efforts to integrate Cooperative Extension into UW-Madison, had a good discussion about ways that Extension has been of service to their county, and discussed their ideas for other ways in which Extension can extend its impact.
The day ended with a visit to Trane, an international producer of HVAC and building management systems and controls. Trane was founded in 1913 by James Trane, a Norwegian immigrant, and his son Reuben, a graduate of UW-Madison with a degree in mechanical engineering. After touring their impressive HVAC lab and leading edge product showcase, we talked about how we can partner with them more closely, both through access to our talented undergraduate and graduate students and through research partnerships. Trane has already been back on campus for some follow-up meetings and we are looking forward to further discussions in 2019.
Visiting towns in Wisconsin always provides a great opportunity to talk about all the things we do at UW-Madison and the many ways we reach out across the state. With another budget debate coming up this next year, these connections are deeply important.
I hope that all of you in the UW-Madison campus community have a happy and safe holiday period. Enjoy the break. Come back refreshed and ready for the spring semester. I'm looking forward to 2019 and more travels across our state.