An important national discussion is occurring around race and higher education. We are in conversation with students of color on our campus and across the country, who are raising valid points about climate, diversity and fair representation. I look forward to engaging in that discussion, and I also want to make sure that we clearly understand where the University of Wisconsin–Madison has been and where we are headed regarding diversity efforts.
This blog is about the data on undergraduate enrollments and outcomes. The bottom line is we have been making progress in some important areas.
Over the last 10 years, the number of targeted minority (African American, American Indian, Hispanic/Latino(a), Southeast Asian) undergraduates at UW–Madison has grown by 32 percent. Minority undergraduates (targeted minority students plus all others of Asian descent) currently represent almost 16 percent of our enrolled undergraduates. This fall, we enrolled 1,200 more minority undergraduates than 10 years ago.
Some of the increase in enrollment of minority students is obscured by federal reporting requirements. Starting in 2008, students who identify as Hispanic plus any other race are reported as Hispanic, and students who identify as non-Hispanic and any other race are counted in the "two or more races" category. Consequently, many students who previously identified as African American or American Indian are now reported in the "two or more races" category or the Hispanic category. Fewer students are reported as African American only. The chart below compares the trend in enrollment of students who identify as African American only and students who identify as African American in one or more racial category.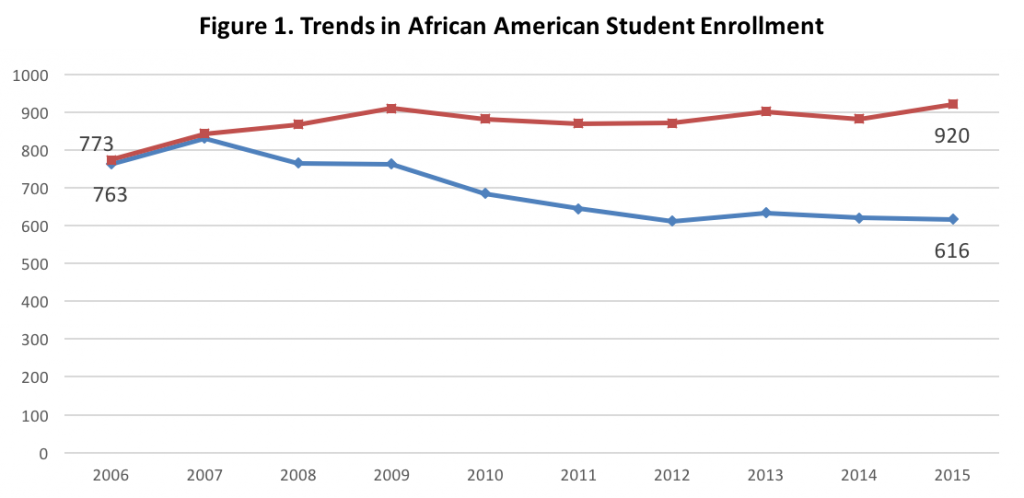 Over the past 10 years, applications, admits and enrollments of minority and targeted minority freshmen have increased. Targeted minority student freshman enrollments have increased, albeit slightly, from 9.6 percent in 2006 to 10 percent in 2015. Minority student freshman enrollments have increased from 14.2 percent in 2006 to 16.1 percent in 2015.
I'm particularly proud of our progress in improving retention and graduation rates for targeted minority students. While we have seen substantial increases in these outcomes for all students, they have risen faster for targeted minority students. In 2000, UW–Madison retained 83.2 percent targeted minority students to the second year, compared with a retention rate of 91.6 percent for the whole student population. In 2015, 95.2 percent of targeted minorities and 95.8 percent of all students were retained. The retention rate gap has nearly closed.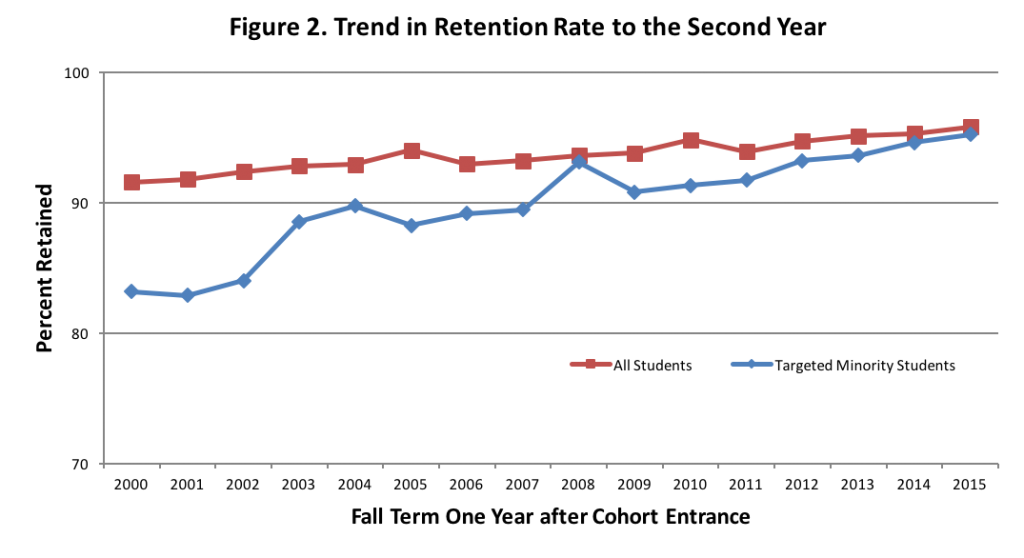 Similarly, six-year graduation rates for targeted minorities have shown steady improvement. In 2000, the six-year graduation rate was 52.7 percent, compared to 74.8 percent for all students. By 2015, the six-year graduation rate for targeted minority students improved to 74.6 percent and to 85.1 percent for all students.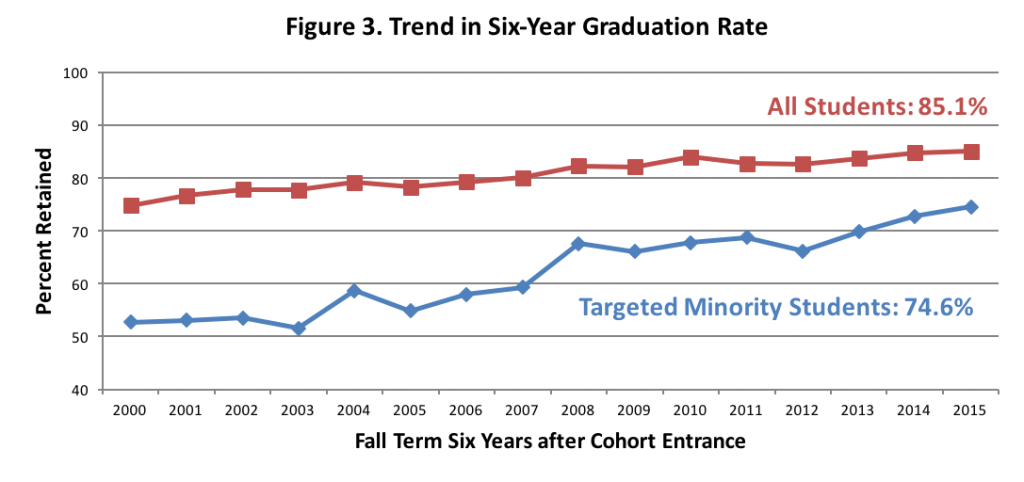 These data indicate there is still much progress to be made, but we've greatly improved outcomes for our students of color here at UW-Madison. A recent publication by the Education Trust listed UW-Madison among the top 13 schools in its progress in closing these education gaps.
There has been some criticism of our plan, approved by the Board of Regents in November, to waive the cap on nonresident enrollment. With the waiver of the cap we have made a commitment to enroll at least 3,600 Wisconsin residents in each freshman class, about the number we have enrolled over the last 20 years.
Some question whether this plan will undermine our efforts to enroll a racially diverse student body. Data indicate that the opportunity to enroll more students from states other than Wisconsin will support our diversity efforts. Wisconsin residents were, and are still, the largest source of minority undergraduates (60 percent in Fall 2015) and we intend to continue our commitment to enrolling freshmen from Wisconsin's minority populations. But over the last 10 years, the highest growth in minority undergraduates has come from students from Minnesota and other states.
While Wisconsin is by far our largest source for first-gen undergraduates, it has trended slightly downward over recent years – in Fall 2015, 80 percent of our first-gen students were Wisconsin residents, compared to 83 percent in 2009 (the first year first-generation enrollments were available.
I agree that we need to enroll more students of color, particularly from Wisconsin. This is one reason why we've expanded our precollege pipeline program. PEOPLE, created in 1998, operates in high schools with a significant number of low-income students in Madison and Milwaukee, as well as elsewhere in the state. The goal of the program is to help students of color and those from low-income households to graduate academically prepared for college, thereby increasing enrollment and graduation rates at UW–Madison of students from diverse backgrounds. I would like to find some private donor funding to support an expansion of PEOPLE as part of our fundraising campaign.
In addition, some of our top education experts at UW-Madison are working with public schools in Madison and elsewhere to find strategies for supporting minority high school students to achieve and graduate at rates similar to all high school students. We cannot increase our admissions without working closely with the public elementary and secondary schools to reduce this equity gap.
Wisconsin is a much less diverse state than are places like California or Texas that are now majority minority states among high school graduates. These states are also experiencing growth in the number of high school graduates. That means policies that are effective in increasing diversity in the flagship universities in these states may not work as well in Madison. Because of our demographics, we have to work harder at this. I appreciate the commitment of this community on these issues and look forward to working with students, staff and faculty to make progress.