One of the best parts of my job is going out to see the many ways UW-Madison collaborates with Wisconsin businesses and communities. Last week I was in Sturtevant to see how BRP/Evinrude used a UW-Madison software program to build a better outboard motor.
The software program allowed them to simulate a host of product variations without building a budget-busting prototype for each one. It's a good example of how investment in UW-Madison yields benefits for Wisconsin both in the classroom and for private businesses.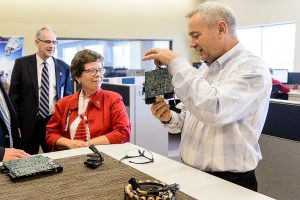 After touring their state-of-the art facility and seeing all of the toys they build, it's no wonder UW-Madison engineering students want to intern at BRP/Evinrude. Who wouldn't want to spend a summer working for a company that builds everything from all-terrain vehicles to snowmobiles?
During our meeting, George Broughton, director of Advanced Engineering and Innovation, stressed the importance of liberal arts training in writing, communication and reasoning for engineering students. It's a theme I hear often from business leaders. The strength of UW-Madison's liberal arts education is one of the reasons we are one of only four campuses where BRP/Evinrude recruits engineering students for their seven-month co-op program. It's a terrific program that lets students gain valuable work experience while they are still in school.
Innovative research happens every day on our campus, but seeing firsthand what Wisconsin businesses can create together with our researchers was worth the trip to the Racine area. And I even had time to stop by for a kringle from O&H Danish Bakery.
I also spent a few hours on the UW-Parkside campus with Chancellor Deborah Ford talking to community leaders about the need to reinvest in UW. Many thanks to Chancellor Ford for hosting a great discussion about the critical role higher education plays in the Wisconsin economy.